There are so many options including the recipe here where you can use all of your favorite vegetables as toppings. Have fun with it!! Grab your spaghetti squash, rinse, pat dry, chop off the tip and tail. Halve it length-wise.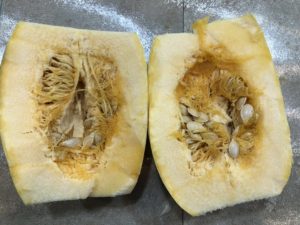 Stand the squash upright on a cutting board. The outer casing of the spaghetti squash is quite firm so you will need to use a sharp knife. Allow gravity to help you cut from top to bottom, and be very careful while cutting but don't force it and be sure to have a firm grip to prevent the Squash from slipping. As you're scooping the innards and seeds, be sure to use a sturdy metal spoon. Get the spoon as close to the flesh as possible while you're scooping so the innards will release easily.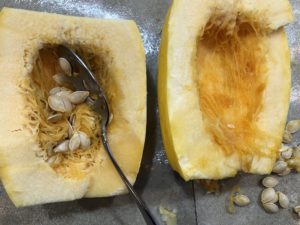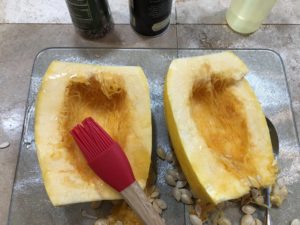 Coat the flesh with olive oil and use your hands or a basting brush to smooth the oil over the full surface of the flesh. Sprinkle salt and pepper over each half. Place the squash on a baking sheet. Cut side down.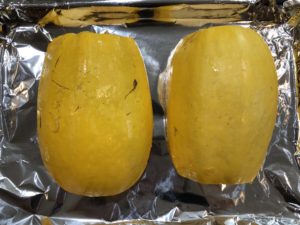 Roast for 40 to 50 minutes, or until the flesh is very tender when poked with a fork. You can also adjust the bake time according to your personal taste – roasting the squash for less time will result in al dente "noodles.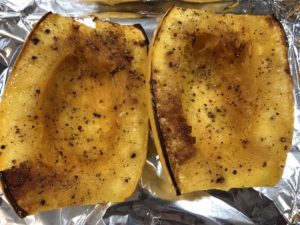 Once the spaghetti squash is done roasting and you release the strands using two forks scraping inwards, the consistency and taste is very similar to spaghetti pasta but a healthier, better tasting, more nutritious version that you will love!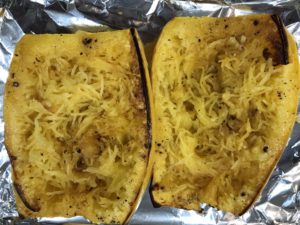 You can serve your low carb spaghetti squash with your favorite sauce, vegetables and parmesan cheese. Enjoy!