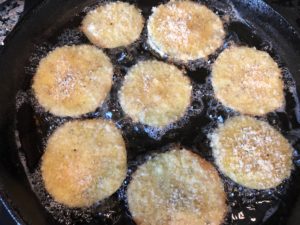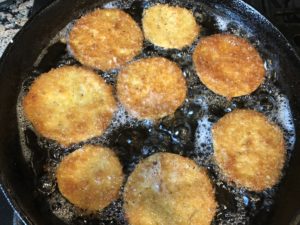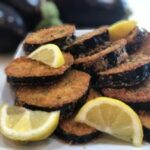 Fried Eggplant
Ingredients
1/4

cup

cornstarch

2

medium eggs

1

teaspoon

sazon completa

1/4

teaspoon

garlic powder

1/4

teaspoon

onion powder

1

cup

panko bread crumbs

or cornmeal

1

small eggplant cut crosswise into 1/4-inch-thick slices

Canola oil for frying

Fresh squeezed lemon juice for drizzling

Parsley flakes for garnish

1

teaspoon

kosher salt

1/2

teaspoon

freshly ground pepper
Instructions
Slice eggplant into 1 inch slices and lightly season each side with garlic powder and onion powder.

Beat 2 eggs and 1 teaspoon Sazon completa; set aside

Place the cornstarch on one dish and the panko bread crumbs(or cornmeal on another (make sure the dish has a flat surface)

Dredge each side of the eggplant slice in the cornstarch, coating each side and shake off the excess

Coat each side with the egg mixture, and dredge it in the panko bread crumbs(or cornmeal) lightly pressing each slice in the crumbs to make them adhere.

Transfer the coated eggplant to paper towels and allow it to dry for 1-2 minutes.

In a cast iron skillet, fry the eggplant slices on med-high heat in canola oil for 2-3 minutes on each side, until they are golden brown and transfer them with tongs to paper towels to drain.

Sprinkle the eggplant lightly with the kosher salt, fresh ground pepper

Garnish with fresh squeezed lemon juice and parsley if desired.