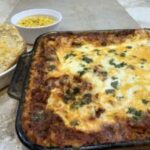 Cheesy Turkey Lasagna
Total Time
1
hour
20
minutes
Ingredients
2

pounds

ground turkey

1 16

oz

box lasagna noodles

1/4

cup

red wine

1

large green bell pepper

diced

2 8oz jars tomato sauce

1

large yellow onion

6

garlic cloves

diced

2

teaspoons

chicken bouillon granules

1

tablespoon

sugar

1/2

cup

fresh basil

1

teaspoon

fennel seeds

1

teaspoon

ground oregano

1/2

teaspoon

sea salt

1/2

teaspoon

freshly ground pepper

1/2

teaspoon

crushed red pepper

1/2

cup

parsley

chopped

2

medium eggs

1 15oz container ricotta cheese

1

lb

mozzarella cheese

1

cup

freshly grated parmesan cheese
Instructions
In a large dutch oven, add 1 tablespoon canola oil and cook the ground turkey over med-high heat, stirring consistently to crumble and separate meat.

Stir in all seasonings, spices and herbs and pour in tomato sauce.

Reduce heat to a low simmer.

Place lasagna noodles flat in a baking pan or casserole dish.

Meanwhile, bring 8 cups of water and 1 tbsp of salt to a boil and pour directly over the noodles.

Allow noodles to sit for 30 minutes in the hot water, drain, rinse and discard pasta water.

In a mixing bowl, combine ricotta cheese, eggs, parsley, salt, pepper, seasoned salt and place mixture in the fridge until ready to assemble.

Preheat oven to 375 and spray a 9x13 inch casserole dish with cooking spray.

Spread about 1 cup of meat sauce in the bottom of pan.

Place a layer of noodles in the bottom of pan, slightly overlapping, trimming as necessary.

Spread 1/3 of the ricotta cheese mixture and top with 1/4 of the mozzarella cheese, then sprinkle with 1/4 cup parmesan cheese. Repeat ...layering for a total of three layers.

Place final layer of pasta noodles, topped with remaining meat sauce, mozzarella, parmesan, mild cheddar cheese.

Cover with foil and bake for 25 minutes.

Remove foil and bake for an additional 25 minutes to allow cheese to melt and slightly brown.

Allow lasagna to cool for 20 minutes before serving.
Recipe Notes
***You may use ground meat of your choice in any combination***