Thick-cut chops and steaks are an impressive center to any meal. Pork is notorious for easily becoming dry and tough if it's overcooked, and working with an extra-thick cut of meat only compounds this dilemma. So how do you cook it to perfection?
A perfectly cooked pork chop should have a crisp sear on its exterior with tender, succulent meat from edge to edge. Tracking the internal temperature of pork is absolutely critical to avoid a dry, tough chop. A chop can lose up to 30% of its moisture when cooked to 150°F [66°C] or higher. So keep that in mind next time you're grilling or pan searing those chops.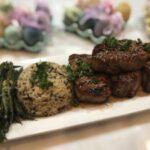 Butter Basted Pork Chops
Ingredients
4

boneless pork chops

4/5" thick about 9 oz each

2

tablespoons

butter
Marinade
1/3

cup

/ braggs liquid aminos or soy sauce

2

tablespoons

brown sugar

2

teaspoon

Worcestershire sauce

1

teaspoon

Dijon mustard

2

garlic cloves

minced

1/4

teaspoon

freshly ground black pepper
Instructions
Place Marinade ingredients in a ziplock bag and massage to combine.

Add chops and coat in the Marinade and place in the fridge for 1 hour.

Take the chops out of the fridge 20 minutes prior to cooking.

Drizzle butter in pan, heat on medium high. Add pork chops and cook for 4-5 minutes or until the underside is caramelized, then turn the chops and cook for 4-5 minutes

Baste both sides with residual marinade in ziplock bag, then cook the basted side for 30 seconds before serving. The chops should have a crust.

Transfer chops to a plate, cover loosely with foil and allow them to rest for 3 minutes before serving.