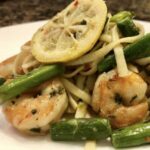 Linguine Shrimp Pasta with Asparagus and Lemon
Ingredients
1

tablespoon

Canola oil

1

Asparagus bunch chopped

1

tablespoon

sea salt plus 1 1/2 teaspoons

3/4

pound

linguine

3

tablespoons

butter

2 1/2

tablespoons

extra virgin olive oil

4

garlic cloves minced

1

pound

large shrimp

peeled and deveined

1/4

teaspoon

fresh ground black pepper

1/3

cup

chopped fresh parsley leaves

1/2

lemon

zest grated

2 lemons (juiced lemons squeezed)

1/4

lemon

sliced

1/8

teaspoon

hot red pepper flakes"
Instructions
Boil water and add salt and oil.

Cook linguine for approximately 8 minutes, or until tender.

Drain and return to pot.

Remove fibrous ends of asparagus by cutting them asparagus into 1/3 in slices.

In another pan, melt the butter and olive oil over medium heat.

Add the garlic and asparagus and saute for 3-5 minutes or until crisp and remove from pan and set aside.

Add 1 tbsp canola oil and 3 tbsp butter and heat until melted.

Add shrimp, salt, and pepper and saute until the shrimp are pink in color, about 5 minutes total, turning them halfway through.

Remove from the heat, add the parsley, lemon zest, lemon juice, lemon slices, and red pepper flakes. Toss to combine.

Immediately add the cooked linguine to the shrimp and sauce, then toss and serve.