Easter seems to have come out of nowhere this year and has crept up on me like the daisy's have sprung up overnight! Spring is within arms reach and is dropping hints that she is fast approaching and she may finally be here. We are so ready for her! We've been busy with basketball training, socializing and trying to have a more normal life. Having friends and family around for the holiday's does my soul some good.  Oftentimes; I'm not too keen on quick and easy meals but I do have quite a few up my sleeves. I've began preparing to become the queen of quick and easy dinners as the school year winds down. So quick and easy it is!
Fish is one of the fastest things to cook and when Spring starts doing her thing I am more likely to be cooking more fish. I have to admit we all sort of fell out of love with salmon for a while, I don't know why it happened because we never stopped loving it. I assume it was too much of a great thing. So I have made it my mission to get it back on the menu as often as I can and in many varieties and flavors as possible and this recipe for Citrus and Black Strap Molasses Glazed Salmon has made my family fall in love with salmon all over again.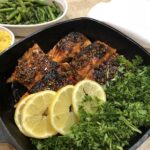 Citrus and Black Strap Molasses Glazed Salmon
Ingredients
6

salmon fillets

2

tbsp

canola oil

1 1/2

tablespoon

black strap molasses

1

tbsp

brown sugar

1/2

cup

pineapple juice

2

teaspoon

dried basil

4

tablespoons

white balsamic vinegar

3

cloves

minced garlic

salt & pepper to taste

1

tsp

blackened fish seasoning (optional)
Instructions
Combine black strap molasses, pineapple juice, white balsamic vinegar and garlic into a small bowl and mix thoroughly.

Place the salmon fillets into the marinade mixture in a container or freezer bag and place in the fridge for two hours.

Remove the fillets from the marinade and pour the remaining mixture into a small pot and bring it to a boil. Once the mixture has thickened, turn off the pot and set aside and allow to cool.

Season salmon with salt, pepper and blackened fish seasoning (optional).

Heat canola oil in a pan on med-high heat and sear the salmon for 5-7 minutes on each side, dusting the marinade on each side ensuring that both sides are glazed.

After cooking for 7-8 minutes on one side, flip the salmon over and glaze the remaining side with the mixture and sear for 7-8 more minutes. Serve and enjoy!
Recipe Notes
If you are using salmon that has the skin on the bottom, start with a cold skillet and add the 2 tbsp of canola oil and lightly salt the bottoms of the pan.
This way the bottom of the salmon has a chance to heat evenly throughout on both sides.