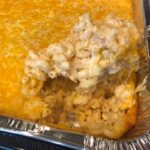 Macaroni and Cheese
Ingredients
1

lb

elbow macaroni pasta

5

cups

grated cheddar cheese (divided)

3

cups

extra sharp cheese (divided)

1

cup

mozzarella

8

tbsp

salted butter (divided)

1

8oz

package cream cheese

1/4

cup

minced onions

3

tbsp

flour

4

cups

half and half

2

cups

evaporated milk

salt and black pepper to taste

½

tsp

cayenne pepper

1

tsp

paprika
Instructions
Bring 4 quarts of extra salted water to a boil and cook the macaroni until al dente. Approximately 8-10 minutes. Drain and set aside.

Do not rinse noodles and mix 4 tablespoons of butter to noodles until melted.

Melt remaining 1/2 stick of butter to a pot and stir over low heat until onions are translucent.

Stir in the flour, salt, pepper, cayenne pepper and paprika.

Cook for an additional 2-3 minutes, then gradually stir in the evaporated milk and half and half.

Simmer over low heat, stirring constantly until the sauce is thickened and smooth.

Add 2 cups extra sharp and 4 cups mild cheddar cheese, cream cheese and stir continuously melted on low-med heat.

Combine the macaroni with the cheese roux and mix well until it turns into a buttered casserole.

For extra cheesy, sprinkle more cheddar and extra sharp while folding noodles into the cheese.

Sprinkle remaining 1 cup of mild cheddar cheese, 1 cup sharp cheese and mozzarella cheese on top of the finished dish.

Place in preheated oven covered loosely with foil for 10 minutes then uncover for the remaining 35 minutes until heated all the way through.

Allow to cool for 10 minutes before serving. Enjoy!