All white everything… of course not. Except those CREAMY, CAJUN RED BEANS. If you're from New Orleans, you know exactly what brand they are. Red kidney beans are as ubiquitous a symbol of New Orleans as the fleur-de-lis, a rite as common as Carnival. The city's culinary connection to the lowly red bean is mighty, stretching over centuries, across distant cultures and peoples around the globe.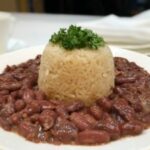 Creamy Cajun Red Beans and Rice
Cook Time
2
hours
30
minutes
Total Time
2
hours
45
minutes
Ingredients
1

1-pound package Camellia Brand Red Kidney Beans

1

pound

smoked turkey wings

sliced

8-10

cups

chicken broth

1/4

stick of butter

2

cups

chopped seasoning blend

onions, celery, green bell peppers, parsley flakes

2

cloves

garlic

chopped

2

bay leaves

Salt and freshly ground pepper to taste

cajun seasoning to taste

hot cooked rice
Instructions
Soak beans in 6-8 cups of water overnight

Rinse and sort beans

In large dutch oven, render sliced turkey meat in 2 tablespoons canola oil for 5 minutes.

Add chopped seasoning blend and garlic to cooked turkey, along with 1/4 stick butter, and continue to cook until onions are translucent.

Add beans, water, and bay leaves

Bring to rolling boil for 30 minutes, stirring every 10 minutes.

Reduce heat, simmer for 1-2 hours, stirring occasionally, until beans are desired tenderness.

Add salt, pepper, cajun seasoning to taste.

Serve over hot cooked rice.