This popular traditional meaty dish calls for the combination of pork and beef, but I think we can mix it up a bit here with pork and veal. Why…you ask? Veal has a fine texture, a smooth taste and is a more tender red meat that comes from young cattle. However; if you're watching your cholesterol, stick with beef as Veal has a little higher content.
Swedish meatballs were brought to the USA by Scandinavian immigrants; many of whom settled in northern Scandinavian countries. Beef was considered a luxury item, which meant meatballs were highly prized. At some point, I would love to venture across borders and into the creamy depths of Sweden's famed meatball, known to locals as Köttbullar.
Swedish meatballs are typically small, about 1 inch in diameter. Take your time rolling the meat into balls between the palms of your hand, otherwise they will go out of shape quickly when you fry them. Fry the meatballs in two batches because if you fry too many at once they will steam rather than brown. They can also be baked in the oven. Oftentimes, as a finisher, I like to take a drizzling of lemon enhanced extra virgin olive oil to the dish that elevates the flavors to exceptional. Whip up some creamy mashed potatoes, egg noodles, rice or tagliatelle pasta. This recipe is guaranteed to be on the dinner table for many years to come.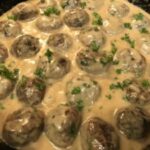 Swedish Meatballs
Ingredients
1

pound

Italian pork sausage

1

pound

ground veal

½

cup

panko bread crumbs

1 ½

tablespoon

flat leaf parsley

chopped

½

teaspoon

ground allspice

½

teaspoon

ground nutmeg

¼

cup

onion

finely chopped

½

teaspoon

garlic powder

½

onion powder

¼

teaspoon

white pepper

½

teaspoon

salt

½

oregano

2

beaten eggs

1

tablespoon

canola oil

5

tablespoon

butter

divided

4

tablespoons

flour

½

cup

of milk

3

cups

low sodium beef broth

1½

cup

heavy whipping cream

1

tablespoon

worcestershire sauce

1

teaspoon

dijon mustard

salt and fresh ground black pepper to taste

Lingonberry jam for serving

optional

half a handful of parsley for garnish
Instructions
Combine ground veal, Italian sausage,parsley, allspice, nutmeg, onion, garlic powder, onion powder, white pepper, salt and beaten egg in a large bowl and mix well.

Place the panko in a large bowl and pour the milk over the breadcrumbs and stir to make a thick paste.

Add the meat mixture to the panko mixture and mix well.

Prepare meatballs by rolling them into 24 medium sized meatballs.

Heat canola oil and 1 tablespoon butter in a large skillet and add the meatballs turning them on each size until brown and cooked throughout. Transfer to a plate, cover and set aside.

Add 4 tablespoons butter and flour to skillet and whisk until it turns brown. Slowly stir in beef broth and heavy cream. Add worchestershire sauce and dijon mustard and bring to a simmer until sauce begins to thicken. Salt and pepper to taste.

Add the meatballs back to the skillet and simmer for another 2-3 minutes.

Serve over mashed potatoes, egg noodles, rice or tagliatelle pasta garnish with parsley and serve with lingonberry jam, if desired.
Recipe Notes
*decrease portion size as needed