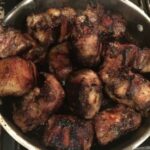 Carmelized Oxtails
Total Time
5
hours
10
minutes
Ingredients
6 lbs oxtails

3 tbsp canola oil

2 tbsp flour

2 Garlic cloves

Salt & pepper to taste

1 packet of Sazon

1 tsp Lawry's seasoning salt

1 red pepper (diced)

1 green bell pepper (diced)

1 onion (diced)

2 tbsp curry powder

1 tbsp ketchup

1 tsp red pepper flakes

1/4

cup

red wine

4 cups water
Instructions
Add canola oil to pan until heated, then add sugar. Stir continuously until it begins to brown.

Add cleaned oxtails to caramelize, rotating often to glaze each side on low-med temp (approximately 1.5-2 hours).

Remove oxtails and set aside. Use drippings and add diced onions, garlic, red and green peppers and all other seasonings to mixture, stir and sauté.

Cook until onions, garlic and peppers are translucent and pour mixture over the oxtails and add (4) cups of water. Cook on low heat for (3) hours.

Serve over rice.
Recipe Notes
If you prefer to use a crockpot, use low temperature setting overnight for 8 hours