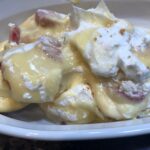 Total Time
1
hour
20
minutes
Ingredients
8-10

bananas (sliced into coins)

1

16oz

strawberries (sliced into coins)

2

boxes

Nilla Wafers (You may not need the whole box, unless you just really like nilla wafers like I do).

1

16oz

container of Cool Whip (divided)

extra creamy

1/3

cup

sour cream

2¾

cans

pet milk

3

5.1oz

instant Vanilla pudding

1

tsp

real vanilla extract

1/4

cup

sweetened condensed milk
Instructions
Combine pudding and pet milk in a large bowl and whisk until creamy.

Add in sour cream, 1/4 the container of cool whip, vanilla extract and sweetened condensed milk.

In an 11×13 oz dish, add a layer of nilla wafers, sliced bananas, and strawberries.

Spread on a large spoonful of the pudding mixture to cover the entire layer.

Repeat the layering process again, ending with the pudding mixture.

Spread on the remaining cool whip.

Arrange wafers in a pattern around the entire dish.

Garnish with remaining crumbs from the bottom of the bag.

Refrigerate for 1-3 hours.
Recipe Notes
***dip strawberries and bananas in a lemon juice only bath if there will be leftovers for a few days to prevent browning***
***Large portion perfect for a holiday treat ***