You know that saying "eat more chicken?" Well.. in this case.. eat more lamb, the cows will thank you! Lamb loin chops marinaded in garlic, steak seasoning and canola oil will have you drooling for more.  These chops are really the filet mignon of lamb..for real. The loin chop looks like a miniature T-bone steak, containing a portion of the loin and tenderloin. The loin chop is the leanest and most tender cut of lamb, ideal for cooking quickly at high temperatures (in a cast iron skillet or grill) for a caramelized outside and pink inside.
I don't want to toot my own horn.. well.. maybe just a little. I'm my own worst critic but my family and friends rave about my cooking time and time again. Of course I rarely taste test during the preparation. I don't know why but my instinct always tell me that it's going to be a hit. I do think what I make tastes good but I think it's difficult to really appreciate your own cooking because I am a bit of a perfectionist.
Lamb loin chops smothered with grape tomatoes and red onions was one of those particular recipes that really stood out and got the wow factor, even from me. And I'm not saying this to brag, I owe it all to the Lamb Chop. The flavor and tenderness can be compared to a nice tenderloin steak.
I think lamb tends to get a bad rap for it's distinct taste and constant comparisons to beef. Here's the thing though, lamb loin chops prepared medium rare in a cast iron skillet will have a melt in your mouth method to preparing the most tender lamb ever. It's much more flavorful and tender this way.
Garlic, tomatoes with a great marinade over the Loin chops. Do I really need to say more? The best part is this simple delicious, mouth watering, melt in your mouth recipe is ready I'm 15 minutes from start to finish, except the marinade unless you choose not too. You can't argue with an easy win.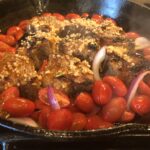 Seared Lamb Loin Chops
Ingredients
8

lamb loin chops

approximately 3 pounds

3

tablespoons

canola oil

4

cloves

garlic

sliced or minced

1

tablespoon

steak seasoning

1

tablespoon

smoked paprika

salt and pepper to taste

1

medium red onion

sliced

½

pound

baby bella mushrooms

sliced

grape tomatoes

sliced
Instructions
In a large bowl mix the ingredients, add lamb and turn to coat. Let marinate at room temperature for at least 20 minutes. (I did overnight).

Heat a large cast iron skillet to med-high heat, add 1 tablespoon of canola and cook mushrooms and onions until browned.

Add more canola oil and sear the lamb for about 5 to 8 minutes on each side, depending on your desired doneness. Pout leftover marinade and garlic over the lamb.

Add sliced tomatoes, mushrooms and onion, cook for a couple of minutes to absorb the flavors.

5. season, salt & pepper to taste