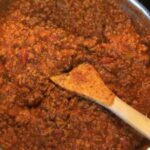 Homemade Tomato Sauce
Ingredients
10

lbs

roma tomatoes

¼

cup

olive oil

3

onions

diced

10

cloves

garlic

minced

1

tablespoon

salt

3

teaspoon

sugar

1

bunch fresh basil

about 25 leaves, chopped

1

teaspoon

pepper

2

bay leaves
Instructions
Preheat an outdoor gas grill to high heat. Roast the tomatoes on the grill until skins begin to blacken and burst, turning so that each side gets cooked.

Remove the tomatoes and set aside on a tray or baking sheet to cool a bit.

Remove the peels and any inedible parts.

In a large skillet over medium high heat, heat the olive oil and then saute the onion for about 5 minutes.

Add in the minced garlic and saute for 1 minute more.

Transfer the onion mixture to a slow cooker

Add in the peeled tomatoes, salt, sugar, basil, and pepper. Use an immersion blender to puree everything together until fairly smooth. (If you don't have an immersion blender then put everything into a blender or food processor in batches and transfer it all into the slow cooker).

Add in the bay leaves and cook on low for 4-6 hours. Store in jars in the fridge if you will be using it within then next 1-2 weeks, or freeze it in quart sized freezer bags. Alternately, you can can it following proper canning procedures.