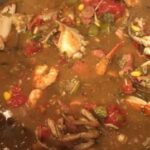 Seafood Gumbo
Cook Time
1
hour
30
minutes
Total Time
1
hour
50
minutes
Ingredients
4

lbs

large shrimp

deveined

10-15

blue crabs

frozen already broken

3

pkgs chicken gizzards and/or turkey necks

optional

3

pkgs sausages

turkey or andouille I use turkey but if you eat pork, Manda or Richards is a good brand.

2

pkgs boneless chicken thighs

seasoned with salt, pepper, poultry seasoning, garlic and onion powder and place in fridge.

1large bag vegetable gumbo mix (omit if you don't want corn in your gumbo and use 2 small bags of okra instead).

Use gizzard stock

shrimp seafood stock (see below)

1 med bag okra

4 cans rotel

2 large cans whole tomatoes

3 onions chopped

2 cups of celery

2 tbsp Creole seasoning

1/2

cloves

garlic

2 chopped bell peppers

2 springs of parsley

1 tsp allspice

3 bay leaves (remove before serving)

4 tbsp butter

4 tbsp vegetable oil (I prefer Canola)

1 tbsp paprika

Gumbo file to taste
Instructions
Boil gizzards with celery, bell pepper, garlic and onions until tender for 1 hour or on low heat temperature in a crock pot overnight. Once cooled, cut into small bite size pieces(not diced). If you use gizzards, add them to the gumbo pot right after you have made the roux and added the the stock.

Cook your sausage first in a larger lightly oiled pan. Then cook the chicken after you are done cooking your sausage. You can cook both in the same pan. Sauté the sausage and use grease drippings to cook the chicken to desired doneness and drain excess grease and chop into bite size pieces. If you prefer not to use gizzards, then sauté your sausage along with the onions, bell pepper, celery and garlic mixture on medium heat until slightly browned and add to gumbo pot.

After sautéing sausage remove from pan and cook the chicken in the drippings from the sausage and add those to your gumbo pot. Scrape all of the drippings from the pan and add it into the main pot along with the gumbo stock and stir a couple of minutes on med heat. Add bay leaves and about 2 tablespoons of creole seasoning.

Remove the crabs from the shell and clean away the membranes but DO NOT wash the crabs. Clean and devein shrimp and place both in the fridge to keep cold until ready for use.

Cook vegetable mix, tomatoes and rotel. If you do not like corn, then just use the (2) small bags of okra.

Slightly season okra 1/2 tsp salt, 1/4 tsp pepper and 1/2 tsp garlic powder. Remove slime by cooking okra in (1) tablespoon of oil on low for 10 minutes. Turning once halfway through carefully to prevent breaking them apart.

Then, add the remaining ingredients, shrimp, crabs, salt, pepper, file, allspice, oregano, thyme, creole seasoning, cayenne pepper together in one large pot/dutch oven and mix well.

*Allow all ingredients to cook in the final pot together on low heat for 2 hours and

Lastly, add your okra and a tablespoon of gumbo file for the remaining 1 hour. Stir often to avoid sticking. If this happens immediately transfer gumbo into another large pot. Be careful not to scrape anything that is stuck in the bottom of the pot.

*Please omit or add any ingredients that you choose and make adjustments that you find necessary to your liking.
Recipe Notes
Important steps in asterisk‼️‼️
*****Use separate pots for each to
prepare***
*****Add gumbo roux in last****
Note‼️‼️ The roux is the most important component here so season it well and cook slowly. DO NOT leave the stove while you're cooking your roux.
****Two ways to make roux****
Option (1): Homemade roux....1/2 cup vegetable oil heated and slowly whisk (4) tbsp flour increasing as needed. Use your judgement and watch carefully until it has reached the consistency of a loose paste with no oil left in the pan. Stir until it turns a dark brown chocolate color.
(OR)
Option (2): Buy 2 bags of gumbo base (see pic) and prepare the same as the homemade roux or you can use a little in conjunction with the homemade if you're having problems with browning.
****Two ways to make stock****
1). You can use the broth that you cooked the gizzards and onion, bell pepper, celery seasoning blend.
(OR)
2). If you do not use gizzards, make a seafood stock using shrimp shells that you have saved over time and placed in a ziplock bag stored in your freezer. Shrimp shells can be boiled to make seafood stock. You should have approximately 6 quarts but gauge it because the broth should not be watery.
**Always adjust your spices as needed.