I guess you're probably wondering where did I get the name of this chicken. Well… it's a long story …but I have time today. Easter Sunday is always such a beautiful day. Just the pure euphoria of knowing that Jesus gave his life for me has my family in that zone of pure gratefulness. Any word would defy description! Whether it's called Easter or Resurrection Sunday is not as important as the event and purpose of the resurrection. However, the timing of the crucifixion and resurrection is significantly meaningful. The resurrection of Jesus is the culmination of all things meaningful, faith and fact in establishing a relationship with God.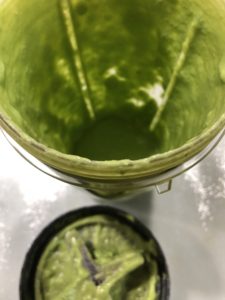 I knew that today's meal had to be special! Even though I had no intentions of cooking because I had already made brunch reservations at the most beautiful, amazing, Italian Villa (Villa Christina) in Atlanta where we have frequented on this sacred occasion every year. So.. after church I was still taking it all in from the service, so much so that the thought of having to rush through traffic just to be in the presence of not so familiar faces was not how I wanted to preserve the holiness of the day so I decided to hold on to the pure innocence and closeness of my immediate family as long as I could.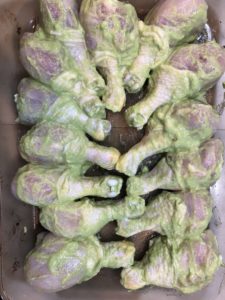 I know that I can be a little extra in the kitchen at times, so I decided to use whatever I had on hand to create something special for my family. I have always believed that you can't go wrong with marinades EVER! Especially if it consists of my three favorite ingredients garlic, shallots and scallions (green onions). Oh.. did I mention garlic.. AND LOTS of it! The flavors that reside deep into each layer of succulent meat is one that I try to recreate and perfect each and every single time I cook. Even when I'm cooking a 30 minute meal to most elaborate. I absolutely love experimenting with flavors and making memorable meals that my family will love. My safe haven is my kitchen and it's where I have my deepest thoughts. I may re-created something several times until I get it right but I can guarantee you that it's nothing but the presence of love, togetherness, gratefulness and family and I couldn't think of a better way to celebrate and capture the pure essence of this most Blessed day than creating something purely from my heart.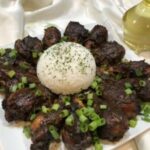 Resurrection Sunday Chicken
Total Time
1
hour
10
minutes
Ingredients
8

chicken drumsticks

4

green onions

scallions

4

garlic cloves

1

tablespoon

allspice

1

teaspoon

cayenne pepper

1/2

teaspoon

garlic powder

1

teaspoon

onion powder

1/2

teaspoon

fresh ground pepper

1

teaspoon

mediterranean sea salt

1

teaspoon

nutmeg

2

tablespoons

brown sugar

¼

teaspoon

vinegar

¼

cup

canola oil
Instructions
Preheat oven to 400°

Puree green onions, garlic and all ingredients in a food processor, except the chicken

Place chicken in a large pan, coat with the pureed mixture and place in the oven for 15 minutes.

Remove the chicken from the oven and tightly cover with aluminum foil

Set aside for 45 minutes

Re-introduce the chicken back into the oven and cook it for 20 minutes, then flip the chicken over and cook the opposite side for 20 more minutes.

Serve with your choice of vegetables or salad.
Recipe Notes
*adjust portion size as needed