Crusted Top Mac and Cheese is a family favorite in my household. We absolutely love it! As I began to prepare for our cookout yesterday, I opted to cook dishes that were a lot less time consuming than usual so I could just live in the moment and spend that extra quality time with my family. Of course, no one was having it, especially my boys. So after the third request to make "my macaroni and cheese," I realized that no cookout is complete without it. This generously buttered casserole with the crusted top is the thing that dreams are made of. Well… my dreams at least but we'll save that for a later discussion.
Growing up, homemade Mac and Cheese was always prepared the traditional way. It was delicious, but the same 'ol boring Mac and Cheese finally needed an overhaul. It was always made from scratch, never the boxed stuff. I remember times when my boys wanted to go to Red Lobster just to eat the Mac and Cheese. I would say, "I can buy you 5 boxes of this from the supermarket for the same price as one." As they have gotten older, they no longer make those kind of requests. I've actually been experimenting over the years with different cheeses, creams and milk and I have finally created a masterpiece. The most flavorful combination, in my opinion is Chardonnay, sharp cheese and toasted Ritz cracker crumbs. However, I've been mixing it with a couple of other ingredients to make it taste homemade. I must say, no one has objected! They like this Mac and Cheese recipe so much that they ask for it often. Who can blame them, because nothing pairs better with barbecue ribs and baked beans. This recipe requires a little more time and effort than boxed Mac and cheese but you will be oh so glad you did. If you're not a fan of cooking with wine, then substitute it with sour cream. This is the closest ingredient to adding more flavor, with a similar taste in place of dry white wine. I guarantee you, the whole family will definitely approve!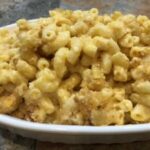 Crusted Top Macaroni and Cheese
Ingredients
1 16

ounce

box of elbow macaroni pasta

4

cups

grated cheddar cheese

2

cups

sharp cheese

1½

sticks of butter

½

cup

minced onions

6

tablespoons

flour

4

cups

half and half

1

cup

crushed ritz crackers

topping

salt and fresh ground black pepper

½

teaspoon

cayenne pepper

1

teaspoon

paprika
Instructions
Bring 4 quarts of salted water to a boil and cook the macaroni until al dente. Drain and set aside.

Melt ½ stick of butter and stir in the crushed Ritz crackers and toast until lightly browned.

Remove breadcrumbs from the pan and set aside. Wipe pan clean with a paper towel and re-use for next step.

Melt remaining butter, add onions and stir over low heat until onions are translucent. Stir in the flour, salt, pepper, cayenne pepper and paprika.

Cook for an additional 2-3 minutes. Add wine, then gradually stir in the half and half.

Simmer over low heat, stirring constantly until the sauce is thickened and smooth. Add cheese and stir continuously until cheese melts.

Combine the macaroni with the cheese sauce and mix well until it turns into a buttered casserole. Sprinkle extra grated cheese on the top along with the toasted bread crumbs.

Bake in a pre-heated 350 oven for approximately 20 minutes or until heated all the way through and golden brown on the top and serve.