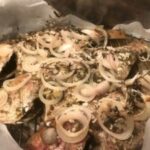 Flaky Whole Baked Red Snapper
Ingredients
3

Whole Red Snapper

2-3lbs scaled and gutted

juice of 1 lemon

1

medium onion sliced

1

tablespoon

Chicken Bouillon

2

cups

cherry tomatoes

optional

salt and fresh ground pepper to taste
Instructions
Make three diagonal cuts on each side of the fish, all the way to the bone.

Squeeze lemon juice over the fish and rub on both sides. Season with salt, pepper and chicken bouillon; set aside.

Place foil or parchment paper in the bottom of the roasting pan for easy clean up and use cooking spray on the baking rack to prevent sticking. If not using a baking rack or foil, use cooking spray for the bottom of the roasting pan.

**I use a rack because I don't like the mushy texture on the bottom of the fish once it's done cooking.**

Layer sliced onions and cherry tomatoes(optional) and place around and over the fish and bake in a roasting pan at 450 degrees for approximately 20-25 minutes, depending on the thickness of your fish. Serve immediately while warm.
Recipe Notes
MARINADE FOR GREEN SEASONING:
2 cups of Cilantro
1 celery stalk
1 garlic bulb
3 green onions (shallots)
1 banana pepper
1/2 cup canola oil
1 scallion bulb
1 bunch of fresh thyme
1/4 cup of water
1/4 tsp salt
Add to a food processor or blender. Blend/pulse, add more water as needed, until the ingredients are puréed.
Reserve half of the green seasoning in a tightly close jar and place in the fridge for later use.
Pour the marinade over the fish, and rub thoroughly until both sides are coated inside and out including belly and cavity.
Place fish in a gallon freezer bag and allow to marinate in the fridge for at least 1 hour.