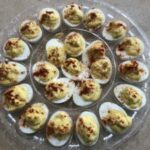 Deviled Eggs
Ingredients
1

dozen of eggs

2¼

tablespoons

sweet relish

2¼

tablespoons

dill relish

2

teaspoons

distilled white vinegar

1

teaspoon

of salt for water

¾

cup

mayonnaise

¼

cup

white onions

diced

1

tablespoon

of mustard

a dash of old bay

½

teaspoon

seasoning salt

¼

teaspoon

of freshly ground black pepper

¼

teaspoon

garlic powder

paprika and/or parsley for garnish
Instructions
Cover eggs with water. Add vinegar and salt.

Bring to a boil over medium heat for 2 minutes.

Remove from heat, cover and set aside for 12 minutes.

Use a ladle to remove eggs from water and rinse in cold water.

Cover the eggs with cold water and approximately 2 cups of ice cubes. Allow a quick cool for 3 minutes.

Peel the eggs carefully and immediately and slice vertically and place yolks in a large bowl.

Mash the yolks well using a fork and refrigerate until cold

Add mayo, sweet and dill relish, onions, mustard, cholua hot sauce, seasoning salt, old bay, black pepper, & garlic powder.

Pipe the yolk mixture into the eggs. Sprinkle with paprika and parsley flakes

Re-introduce into the fridge until cold and serve.