Cajun Seafood Sauce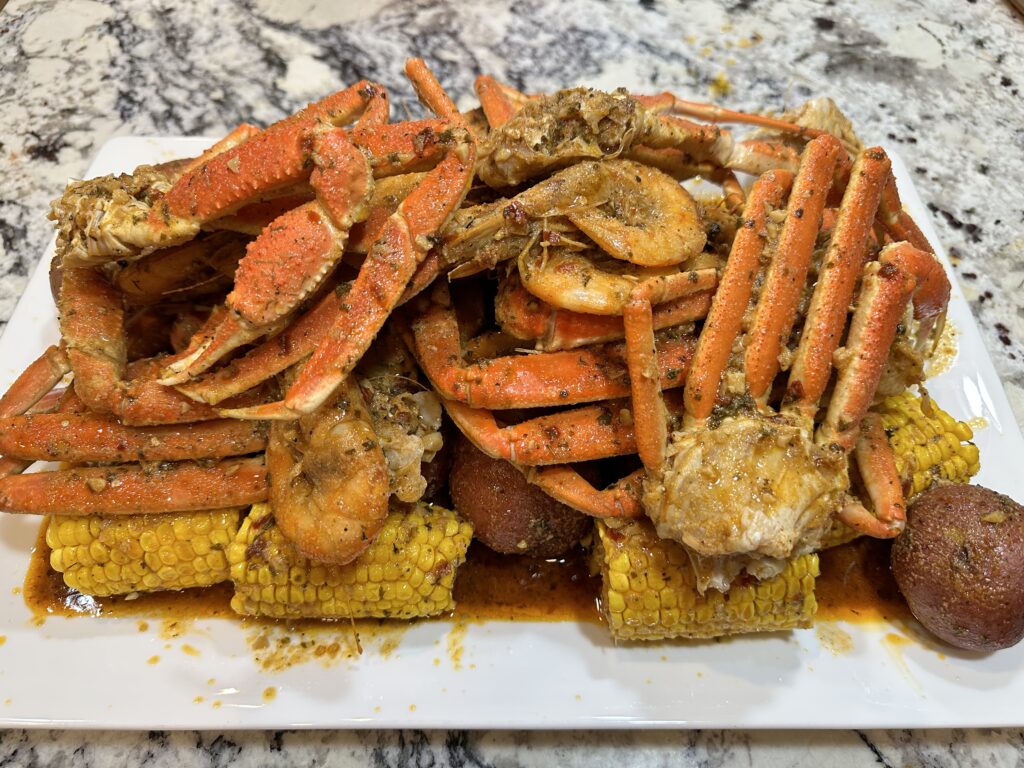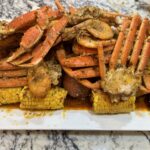 Cajun Crab and Shrimp Boil
Delicious and Easy Seafood Boil
Ingredients
3

lbs

Crab Legs, cleaned and rinsed

2

lbs

Shrimp, cleaned and deveined

1

tbsp

Salt, optional

4

Bay leaves

1

Lemon, sliced in half and juiced

3

tsp

Liquid Crab Boil

Louisiana Brand

2

lbs

Small potatoes

4-6

Corn on the cobb

1

cup

Broth

2

tbsp

Smoked Paprika

2

tbsp

Crab and Shrimp boil dry seasoning

Louisiana or Zatarains

1

tbsp

Old Bay

1

tsp

Cayenne Pepper(optional)

1

tbsp

Crushed Red Pepper Flakes (optional)

2

tbsp

Lemon Pepper Seasoning

5

tbsp

Garlic Powder

1

tbsp

Dried Basil

1

tbsp

Dried Oregano

5

sticks

Unsalted Butter

1

whole

Garlic Bulb (minced)
Recipe Notes
Bring 1/2 gallon of water to a rolling boil. Add bay leaves, lemon juice, liquid crab boil, Louisiana crab and shrimp boil dry seasoning, old bay and salt to a rolling boil in a dutch oven.
Add corn and potatoes to water and cook for 15-20 minutes. Remove from pan and set aside in a bowl.
Then, add crab legs to the same pot of water that the potatoes were in and return heat to medium-high and cover. Steam crab for 6-8 minutes precooked, 20 minutes raw, turn off the heat and place pot on a cool burner. You may leave the crab legs in the water to soak up all of the seasonings and start your garlic butter mixture. If you prefer, less infused, remove crab legs from water and set aside.
Next, in a seperate pot, melt butter, minced garlic and red pepper flakes on low heat. 
Stir and simmer for 2-3 minutes, add remaining seasonings and chicken broth to the butter mixture and toggle the heat betweeen low to medium.
Introduce shrimp to pan in 3 divided servings and fold into sauce with each portion. Cook each divided batch for 4-5 minutes and repeat with remaining shrimp until all are  done. Do not overcook your shimp.
If you chose to allow your crab legs to soak in the water seasoning, now is the time to remove them and lay out the crab, shrimp, corn and potatoes on a serving dish and ladle the garlic butter sauce over everything layer by layer.
Sprinkle with parsley if desired and enjoy.