That is some fine-looking cornbread. The inside is moist, the top nicely browned. It smells heavenly baking in the oven. Where I come from, many folks considered it a crime to put sugar in cornbread. They're drop dead serious about it. They think if you put sugar in your cornbread batter it becomes cake, which is as confusing as heck since the Hot Water Cornbread made by the skilletfuls is called a "cake" of cornbread. As long as it looks and tastes just as good as this one does, I'm willing to be the test dummy.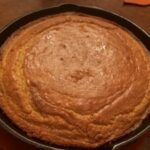 Buttermilk Cornbread
Ingredients
1

cup

all purpose flour

1

cup

cornmeal

1

teaspoon

sugar

2

tablespoons

baking powder

pinch

of salt

2

eggs

room temperature

1

stick unsalted butter

melted

1¼

cup

buttermilk

room temperature

1

tablespoon

canola oil

for skillet

1

tablespoon

unsalted butter

melted (for glazing)

1

tablespoon

honey

for glazing
Instructions
Preheat oven to 375°

Grease cast iron skillet with 1 tbsp canola oil, coat well and place in the oven for 5 minutes until hot.

In a large mixing bowl, combine the melted butter and sugar. Whisk in the eggs one at a time, beating until the mixture is smooth. Add the buttermilk and mix to combine.

In a separate mixing bowl, whisk together the flour, cornmeal, salt and baking powder. Gradually add the dry ingredients to the wet ingredients, stirring until only a few lumps remain. Pour the batter into the prepared pan, smoothing the top with the spatula. Allow the batter to sit for 3 minutes before placing it in the oven to bake.

Bake for 25-35 minutes or until the top is golden brown and insert a toothpick into the center to endure that it comes out clean. Remove from the oven, brush the top with butter and honey and allow to cool before serving.