Pepper Steak Stir Fry
October 28, 2018
: 4
: 10 min
: 20 min
: 30 min
: Easy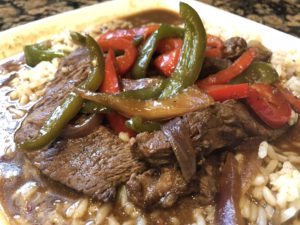 Ingredients
1 tablespoon canola oil divided use
1 red bell pepper cored, seeded and sliced
1 green bell pepper cored, seeded and sliced
1 small red onion, sliced
1 1/4 pounds sirloin steak (or flank) thinly sliced
1 tablespoon garlic, minced
1 tablespoon fresh ginger, minced
salt and fresh ground pepper to taste
2 tablespoons rice vinegar
1 cup Braggs liquid aminos(or soy sauce)
1/2 tablespoon brown sugar
1 cup white vinegar(for marinade)
1 cup water
2 tablespoons cornstarch
Directions
Step 1

Marinate steak in white vinegar, cover and place in the fridge for 1 hour to ensure tenderness.

Step 2

Season the steak with salt and pepper and thinly slice. 
Heat 1/2 tbsp canola oil to large pan and increase heat to high. Add the steak to the pan and sear for 2-3 minutes each side.


Step 3

Remove steak from pan and set aside.

Step 4

Decrease heat to medium and pour remaining canola oil into pan. Add the pepper and onion blend and sauté for 3-4 minutes or until just tender.

Step 5

Add ginger and garlic and sauté for 1 minute until fragrant.

Step 6

Re-introduce the steak and drippings into the pan with the pepper blend.


Step 7

In a small bowl, whisk together the Braggs liquid aminos, rice vinegar, brown sugar, water, pepper flakes and cornstarch.

Step 8

Pour the sauce over the steak mixture and bring to a simmer. Cook for 2-3 minutes or until sauce has thickened to desired texture, then serve over white or brown rice.

Step 9

Garnish with sesame seeds and sliced green onions, optional.
This version of pepper steak stir fry is ready in 30 minutes from stove to table. A restaurant quality meal made in the comfort of your own home. I used sirloin steak instead of flank steak but both work well thinly sliced. A quick and easy meal, cooked with red and green bell peppers in a savory sauce, reminds you of your favorite Chinese restaurant but much better than takeout.HOW DO YOU PREPARE A STEAK STIR FRY?
This dish is a combination of sautéed bell peppers, browned steak and a savory sauce. The recipe starts by cooking the sliced peppers and onions until tender. The next step is to add the thinly sliced steak of your choice into the pan. The finishing touch is the sauce which gets poured over the meat and vegetables and then simmered until thickened. Add a bowl of steamed rice and dinner is ready!To make your steak easier to slice, you can place it in the freezer for 30 minutes. Partially freezing the meat firms it up and makes it easier to get super thin slices.Any color of bell pepper is perfectly fine. Some bell peppers are sweeter than others. Red, yellow and orange peppers are typically sweeter than green peppers. Some pepper steak recipes call for tomatoes or onions, feel free to add those into the mix if you like. I typically use flank steak for this recipe as it's readily available and super flavorful. The steak often used in pepper steak dishes is flank, sirloin, or round steak. However, I chose sirloin this time just because I couldn't resist all that beautiful caramelizing. Either way, this dish is most certain to be a hit with whatever your preference is and easiest to access. Pepper steak isn't an actual type of meat. The title can make it appear to be a specific type of steak but it's just the name of the dish because it contains peppers and steak. You can't go wrong with a simple stir fry! My family absolutely loves it and it's a great weekday meal when you're pushed for time with getting dinner on the table.