We will never say no to a brisket or Charred Oven Baked Barbecue Pork Ribs. My family loves everything about a good old down south southern barbecue, even the mess of it. But when the weather is not quite right, it can put a damper on the backyard barbecue. Well…that's what has happened here in the good 'ol state of the Georgia peaches. It has rained 7 days straight in Georgia, so I realized that I had to rethink a few things. Combining technique and creativity can go a long way and it may not be traditional but oven baking your BBQ ribs can be just as tasty with a few key ingredients. The look and taste of these ribs, combined with the smoky flavor from the hickory liquid smoke, will have everyone thinking you've slaved over the grill all day long. An easy way to upgrade your barbecue this summer is to keep the grilled meats simple but add options such as potato salad, pineapples and fresh and light alternatives  such as a strawberry spinach salad and several different finger foods. In fact, in my opinion, what distinguishes a great barbecue party from a mediocre one is the selection of delicious side dishes that accompany the tender grilled, smoked and oven baked meats. A cucumber and tomato salad, parmesan grilled corn on the cobb, fruit salad, pasta salad, watermelon slices soaked in a mixture of oil, lime juice and sugar, topped with lite italian dressing, lime zest, mint leaves and sea salt. Lastly, but certainly not least, no barbecue is complete without my homemade mac and cheese and baked beans with ground turkey.  Any variation of these sides are sure to make your indoor or backyard barbecue a major hit!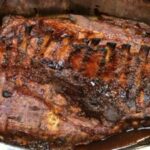 Charred Oven Baked BBQ Ribs
Cook Time
1
hour
50
minutes
Total Time
2
hours
5
minutes
Ingredients
2

racks of pork ribs

2

tablespoons

canola oil

3

tablespoon

liquid smoke

¼

teaspoon

dried cumin

1

tablespoon

salt

2

tablespoons

freshly ground black pepper

¼

teaspoon

celery seeds

1

teaspoon

dried oregano

1

teaspoon

dried thyme

½

teaspoon

ground allspice

1½

teaspoon

dry mustard

1½

tablespoon

apple cider vinegar

2

tablespoons

smoked paprika

1

tablespoon

onion powder

2

tablespoons

garlic powder

¼

cup

brown sugar

2

teaspoons

parsley flakes

1½

teaspoons

chili powder
Instructions
Preheat oven to 375° F.

Remove membranes from ribs

Sprinkle both sides with meat tenderizer and seal them with aluminum foil.

Place ribs in the fridge for 2 hours, then rinse.

Pat dry and coat both sides of the ribs with canola oil.

Mix all seasonings and spices in a small bowl to make a rib rub.

Next, pour on the liquid smoke and ACV vinegar and massage thoroughly.

Generously brush on a coating of dry rub to all sides of the ribs.

Place the ribs with meat side down and poke a few holes on the back side.

Cover with foil, seal and place ribs on a baking sheet.

Bake for 1 hour and 40 minutes.

Remove the ribs from the oven, open foil and drain.

Discard most of the accumulated juices and fat.

Brush on your barbecue sauce.

Adjust oven to high broil and return uncovered ribs to the oven meat side up.

Bake for approximately 10 more minutes until the sauce thickens.

Remove ribs from the oven and allow them to cool for a few minutes before serving. Enjoy!!
Recipe Notes
***Make sure to use a baking sheet that can hold the accumulated juices to avoid spillage.