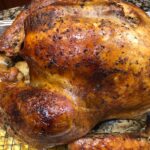 Herb Roasted Cajun Turkey
Ingredients
15-20lbs

whole turkey, fully thawed, washed, giblets and neck removed)



6-7

garlic bulbs cut in half horizontally (divided)



3

lemons (halved)



1

cup

canola oil

8

tbsp

butter (room temperature)

1

tbsp

all purpose sesoning

2

tsp

ground thyme

2

tsp

poultry seasoning

8

thyme sprigs



8

rosemary sprigs



1

16oz

Zatarain's Creole Garlic Cajun Injector


Herb Butter:

8 ounces unsalted butter
2 teaspoon chopped fresh thyme leaves or 1 teaspoon ground dried thyme
8 teaspoons minced garlic
Salt
fresh ground black pepper


Instructions
Lower rack to the lowest part of your oven and Preheat oven to 400°F

Combine the Herb Butter ingredients in a bowl and mix well.

Reserve half of the herb butter in the refrigerator for later.

Line a large roasting pan with foil or parchment paper.

Inject each piece of meat with Creole Cajun Injector according to the instructions on container. Pour what you need in a cup to avoid contamination of what's left over.

Stuff the garlic bulb halves in the cavity of the turkey with 8 sprigs each of thyme and 8 rosemary, half of the canola oil and 4 lemon halves.

Thoroughly pat turkey dry with paper towels.

Squeeze half of a lemon all over turkey top to bottom and into the cavity.

Rub the room temperature butter all over the turkey and under the skin.

Drizzle the remaining canola oil over turkey and rub all over and under the skin.

Season turkey generously with your favorite all purpose seasoning, thyme, poultry seasoning, salt, pepper, including the cavity.

Place turkey on top of the garlic and herbs on the cooling rack or directly in the pan. I use a rack because I don't like the mushiness that's occurs under the turkey once it's done, but it's optional.

Cover and roast 2 hours for a small turkey under 10 pounds, 3 hours for a  10-14 pound turkey, or 4 hours for large turkey over 14 pounds.

Uncover, baste with pan juices and continue roasting for 20 – 30 minutes until the skin is golden browned.
-Turn turkey over to be breast-side up

Using the reserved herb butter, use a spoon to spread it over the top of your turkey for extra flavour (the turkey will be hot and the butter will melt nicely over the skin)

Pour any remaining juices over your turkey.
-Reduce heat to 300°F and continue roasting while basting every 15 minutes, until completely cooked through
Recipe Notes
**If the breast and wing tips begin to darken faster, tent with a small piece of foil to cover each and mold to the wings**For extra crispy skin, broil for an additional 10-15 minutes, keeping your eye on it so it doesn't burn, until the skin is crispy and golden browned all over.
**Tent turkey with foil and allow it to rest for 15-30 minutes before carving and serving.
**Remove 2 1/2 cups of the liquid from the pan juices (add stock if you need too), strain and reserve for your gravy.